Send a money order (US dollars) or bank check (US dollars) or personal check (US dollars). Follow these 4 steps: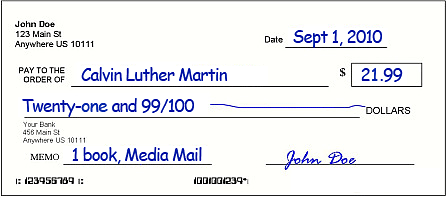 (1) Add the cost of the book (see above) to the shipping charge (click here to see chart) = total. (If you are a New York State resident, add 8% for NYS sales tax.)
(2) Make check payable to Calvin Luther Martin.
(3) Include a note, telling us how many books you're buying, the shipping method you've chosen, and your mailing address.
(4) Mail check and note to:
Calvin Luther Martin
K-Selected Books
19 Clay
Malone, NY 12953
USA


Problems?
Contact our Book Order Manager at 19clay@gmail.com