"There are people who've lived on farms for decades and they've moved out because of this" (Australia)
Feb 9, 2010




Print Article
 
"There's no scientific evidence to suggest there is a link between wind farms and adverse health effects"—Acciona Energy
"There's no scientific evidence to suggest there is a link between wind farms and adverse health effects, on the one hand, and the patent nonsense wind salesmen say about the subject, on the other, except for the obvious fact the latter intend to make a great deal of money from the enterprise—Calvin Luther Martin, PhD (Editor, WindTurbineSyndrome.com)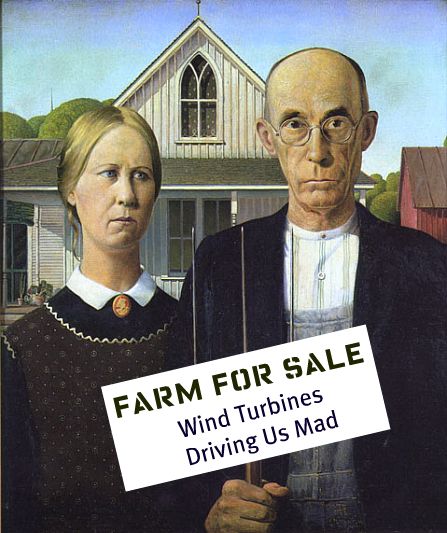 This image did not appear in the original article—Editor
—Rachel Afflick, The Advocate, 2/9/10
One-time wind farm advocate Donald Thomas now believes turbines are affecting the health of those who live or work in the area.
The noise of turbines could carry all the way to Clunes if the Waubra South wind farm extension goes ahead, Evansford resident Donald Thomas says.
Mr Thomas joined about 60 wind farm opponents at a meeting at Evansford Community Centre last week to draw attention to the health issues they say the turbines create.
Organised by the Pyrenees Landscape Guardians, the meeting, held on Sunday, January 31, brought together wind farm opponents from regions throughout the state.
Mr Thomas said his Waubra farm, on Studd Rd, where he works for several months of the year, was located about a kilometre from one of the turbines.
He said headaches, heart palpations and high blood pressure were some of the symptoms he experienced.
For his parents, who had lived on the farm for more than 50 years, a good night's sleep was "little more than a rarity there these days."
"Before it all started we were very much for them (the wind farms)," he said.
"It wasn't until they suddenly started turning that all the problems happened."
The Waubra Wind Farm is the largest renewable power project in the Southern Hemisphere.
The Wind Farm began generating green power in February 2009 and was fully operational from July 2009.
The company behind the wind farm, Acciona energy, has proposed a new wind farm development at Evansford, 8km north east of Waubra and 9km west of Clunes.
A spokesman for Acciona said the company was still conducting investigations of the site at Evansford.
"We don't expect to be lodging a planning application until later this year at the earliest," he said.
"There's no scientific evidence to suggest there is a link between wind farms and adverse health effects."
Victorian Landscape Guardians vice president Kathy Russell said last week's meeting brought wind farm opponents from across the state together in Evansford, to see "what they would have in store themselves when these developments take place in their own locations."
Waubra residents spoke at the meeting about their experiences.
At the meeting a petition was started requesting a moratorium on wind farms until health studies could be undertaken.
Peter Kavanagh DLP Member for Western Victoria also attended the meeting and told The Advocate he planned to raise the issue in parliament.
"There are people who have lived in farms for decades and they've moved out of their farms because of this," he said.
·