Gutsy woman takes aim at the Big Wind Goliath (Australia)
Aug 13, 2012




Print Article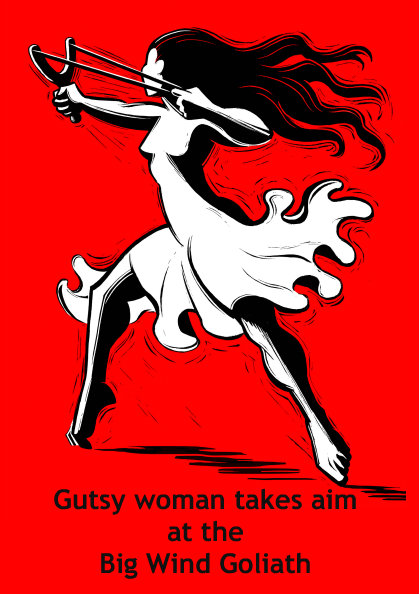 —Calvin Luther Martin, PhD
This spring, a bright woman named Mary Morris conducted a survey of the Waterloo Wind Farm (Australia), to see how many people were suffering ill effects from the turbines.  Mainly, she was looking for signs of Wind Turbine Syndrome.  You can read about her survey here:  "Wind Turbine Syndrome documented out to 10 km (Australia)."
First, Mary created her survey form—one for each household.  Then she wrote the following cover letter to accompany each survey form:
I am sending your household the attached anonymous survey in order to establish what percentage of  people who live in the vicinity of Waterloo Wind Farm  have been disturbed by noise, shadow flicker or tv/radio interference from the wind farm since it started operating.

It is also to establish the distance from the turbines at which any disturbance may be occurring.

Results from this survey will be used to inform the relevant Local, State and Federal Government authorities of any disturbance issues which fall within their duty of care.

A summary of the results will be made available to the local community within 4 weeks of the conclusion of the survey.

If you are willing to participate, can you please complete the survey for your household and return it to me in the envelope provided by Friday 4th May 2012.

Please contact me on the phone numbers below if you have any questions.

Thank you for your participation,


Mrs Mary Morris
PO Box 188
Eudunda
5374 Ph (08)85811567 mobile 0438066634
Then she produced this map, with a series of concentric circles labeled A through G, where A=0–1km, B=1–2km, C=2-4km, D=4-5km, E=5-7.5km, F=7.5-10km, G= >10km.  (The thick red vertical lines in the center of the map indicate rows of wind turbines.)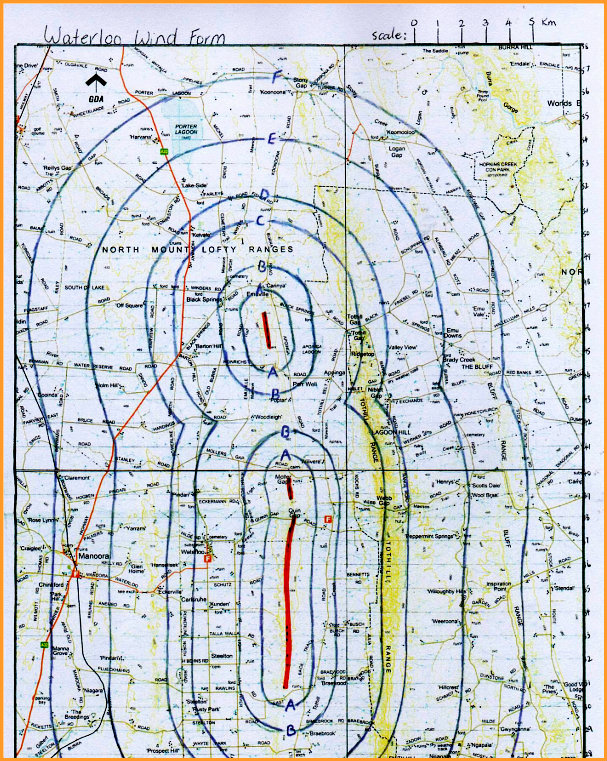 She put the map, the survey form and the letter into an envelope, added a stamped, self-addressed envelope, and either hand-delivered it throughout her community, or mailed it. Mary personally made sure that every household was included in the survey. (Being a 4th generation farmer from that area, she knows everybody, and who lives where.)
By consulting the map, people could easily work out where their house was and from that calculate exactly how far away they were from the nearest wind turbine. (Many of the residents are not on a computer, so it was all done by hand and paper copy.)
We publish this courageous and charming story in the hope that other people will use Mary's ingenious and simple technique to survey their own communities.  Don't rely on the wind developer or a government agency to do it accurately.  Do your own—using Mary Morris's template.
It's called "grassroots" research.  It's time to measure the true impact of wind turbines on rural communities everywhere.