Pierpont not qualified to testify re. Wind Turbine Syndrome? (Ontario)
Sep 27, 2013




Print Article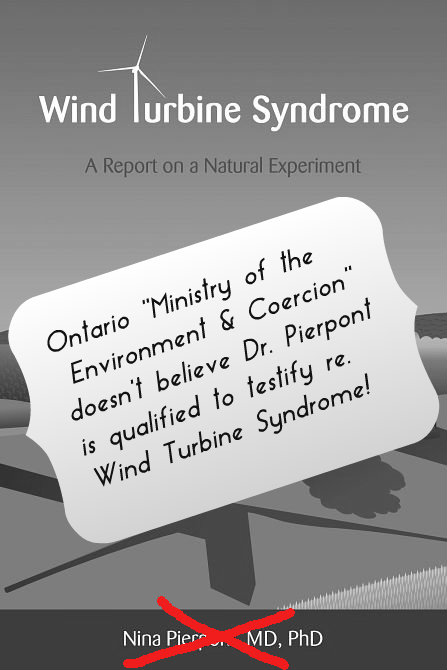 —Calvin Luther Martin, PhD
This is priceless!
On a different note, could you please advise of how you will ask the [Environmental Review] Tribunal to qualify Dr. Pierpont?

You have watched some hearings before, so you will likely know that a party tendering an expert witness will ask for a proposed witness to be qualified as having expertise in a particular area.

The Chair has asked for qualifications to be dealt with in advance of the beginning of the hearing so we ask that you provide the area of expertise that you intend to have Ms. Pierpont qualified in.

Katie Clements
Counsel
Ministry of the Attorney General
Legal Services Branch | Ministry of the Environment
135 St. Clair Ave. West, 12th floor
Toronto, ON M4V 1P5
Phone: 416-327-1425
Fax: 416-314-6579
Katie.clements1@ontario.ca
Priceless! This, alone, is worth the price of admission—to this freak show! I'm 65; I thought I had heard everything!
Ladies and gentlemen, you just read an excerpt from an email sent to Esther Wrightman from Attorney Katie Clements, wondering how on earth Dr. Nina Pierpont might demonstrate her qualifications to give expert testimony before the Ontario Ministry of the Environment on — Wind Turbine Syndrome.
Only in Ontario! (In Ontario, believe it or not people actually elect people who hire people like Mighty Katie!)
Note to Dr. Laurie: Notice how Nina Pierpont's credentials are being smeared from "Dr. Pierpont" to . . . "Mizzz Pierpont." Sound familiar? Do these jackasses all use the same How-To manual?
Welcome to the Ontario Environmental Review Tribunal Circus!