"The Next Terror": Coming soon to a field or ridgeline near you!
Oct 8, 2013




Print Article
.
*What, if anything, is the difference between these two "Infrasonic Fear Generators"?.
.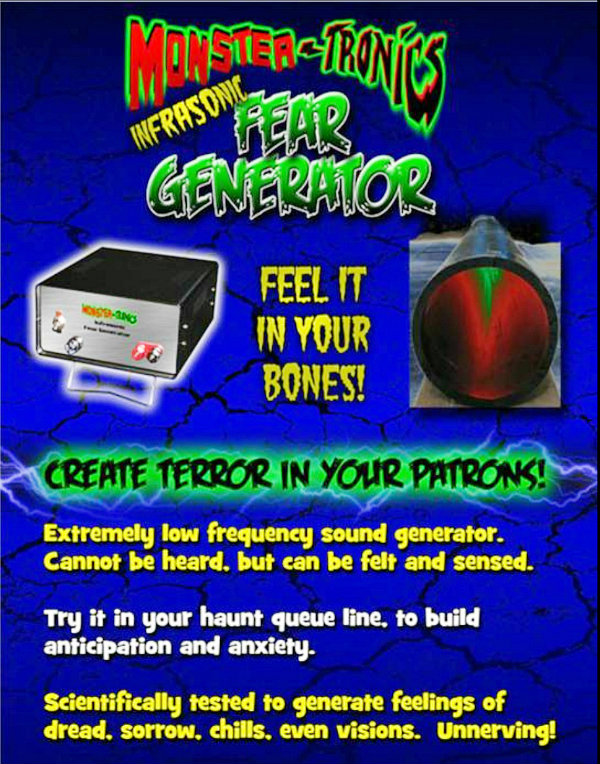 Click here for website.  This thing is . . . real!  Read the text describing infrasound!  Yikes!  They got it . . . right!
The Infrasonic Fear Generator is the first commercial product of its kind. Simply put, the Fear Generator can cause a range of strange feelings, anxiety, sorrow, chills, unnerving feelings, heightened emotions, including visions and vibrations in the chest and other parts of the body, in a large percentage of people.

Infrasound refers to extreme bass waves or vibrations, with a frequency below the audibility range of the human ear. Even though these waves can't be heard by us, they can be felt and sensed and have been shown to produce a range of effects in some people.

Based on previous studies, 20% to 60% of people have reported strange feelings when tests were performed at concerts, in pressure chambers, at home, and in test facilities. No tests were conducted in a scary environment. We believe the percentage of people affected in a haunted house setting will be even greater. Most people will feel vibrations in parts of their bodies (commonly the chest area) similar to audible bass but won't know where it is coming from since they can not hear it. Vibrations in the chest are a common symptom of extreme terror.

Infrasound is very difficult, if not impossible, to recreate from a standard stereo system. Most subwoofers are only rated down to 40 Hz and the amplifiers, filters, and crossover systems can limit the low frequencies you need to hit even further. The Fear Generator is specially designed to produce a specific infrasound frequency that has been scientifically tested to produce these effects in people.

One of the best places to put the Fear Generator would be near your wait line, where anticipation and anxiety start to build naturally.

NOTE: A large pipe is required for the Fear Generator and is not included.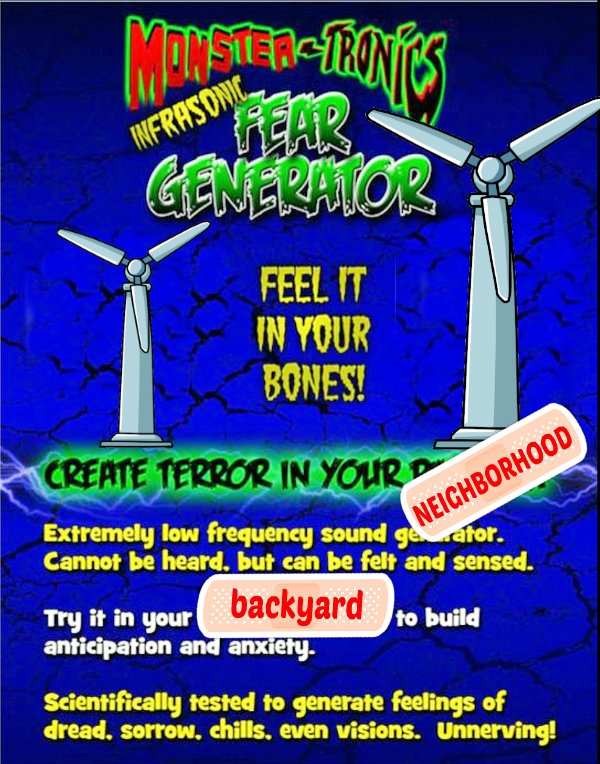 .
*With thanks to Eric Rosenbloom of National Wind Watch, who brought this monstrous device to our attention.