"Leave": A poet forced from her home by wind turbines (Ontario)
Apr 27, 2014




Print Article
Editor's note:  Esther Wrightman — the young mother who became the face and voice of massive, organized resistance to wind energy companies in western Ontario.  Famous for satirizing NextEra as "NextTerror," and triggering a lawsuit from the offended corporation.  Esther and her family are leaving Ontario, "shaking the dust off their feet" as they depart.
Esther and her father, Harvey Wrightman, endured the indignity of an "appeal" before the Ministry of the Environment's so-called Environmental Review Tribunal, which, it turns out, is basically a front for wind energy companies and the Green Energy Act.  (This is the hearing where Dr. Pierpont was deemed unqualified to testify regarding Wind Turbine Syndrome.  In fact, virtually all of the Wrightmans' expert witnesses, including their WTS victims, were shit-canned — denied a hearing.)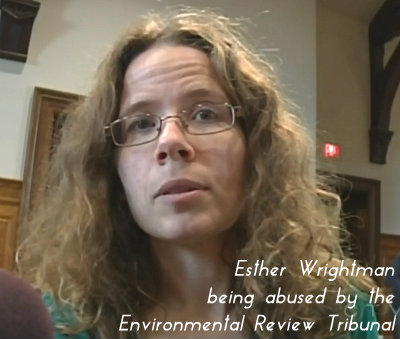 The Wrightmans have concluded that Ontario has become a chapter in Lewis Carroll's surreal, "Alice in Wonderland."  They are leaving "Ontario in Wonderland" for New Brunswick, Canada — a province that takes a dim view of bullshit wind energy.
Esther is a poet.  I predict she will be hailed someday as one of Canada's premier poets.  Visit her website.  Esther wrote the following lament as she has watched wind energy employees bulldoze and torch the landscape — trees, pond, fields, wildlife habitat — surrounding her home.
A new "Silent Spring" is underway outside her window.  One that will turn into an "ILFN-Rich Spring" once those turbines begin operating — and the wildlife altogether vanish, along with the Wrightman family.
..
"Leave"
I should have known
..that night watching
…our gracious hollow tree in the field
….burst into flames.
And firemen running about —
..frenzied ants — revealing
her charred remains.
Something should have clicked
..when the pine,
…(patiently leaning,
….a hundred years)
twisted to the ground.
And even last week,
..in case I didn't get the message,
that Manitoba maple
..with all the keys to the world,
…where the early days hammock .. hung
…forever,
snapped in half.
Leave,
as the yellow house
dismantles — brick by
brick,
fence lines rip up
as an old roll of fabric,
ponds, bursting with every frog we know
become backfilled graves,
and cabooses and box cars
morph into black tankers and
white towers — eagles to
vultures and
wild grass to
tiled Land
Now, put out the flames
with waves of tears, and
leave.
— Esther Wrightman (April 2014)