Man fights wind turbines with hunger strike (France)
Mar 27, 2014




Print Article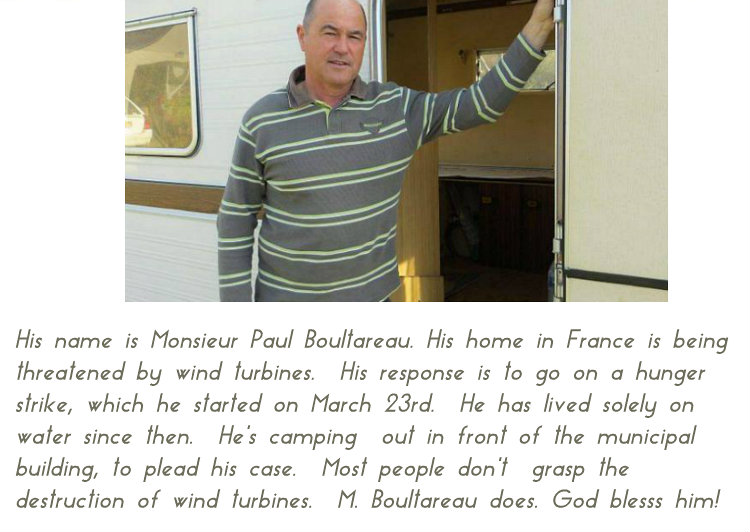 Click here to read the story in French.  English translation is below.
Three questions to …

Paul Boultareau. A wind farm is to be built near his home at Grande-Lande, he believes he does not have all the information regarding this construction.  Since Monday, he has stopped eating.

Paul Boultareau, why this hunger strike?

» First, because it is a peaceful action, one to get the attention of government so as to set off a real debate on the merits, if any, of industrial wind turbines. E.g. what is their place in relation to other new energy sources? And what of their impact on the bocage countryside of our district, on health and on wildlife?

What are the answers you are looking for?

» I would like to understand the financial picture. First, what will be the cost of installing these wind turbines, then their operating costs, and the potential impact on the creation of new jobs in France. I would also like to know how long they will work, what they are to become at the end of the contracts obligating EDF to buy their electricity, and what is their expected output? I would also like to highlight how these contracts will affect the bills of electricity consumers in general and, finally, how these machines will benefit the citizen-consumer.

How will you proceed with your campaign?

» I had my last meal Sunday night, and since then I have consumed nothing but pure water. Thursday, I will set up my camper van in the village of Vritz, in front of the town hall. I will answer questions from the people who come to see me, and I hope this will lead to a real public debate, one which will present objectively all aspects of the proposal.