"Neighbors Claim Wind Turbine Makes Them Ill." (Texas)
Aug 2, 2008




Print Article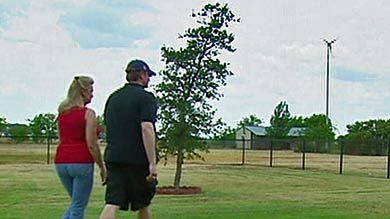 Debbie & Lance Behrens (Photo © WFAA-TV)
—reprinted from WFAA-TV (Dallas/Ft. Worth, Texas), written by Janet St. James, 7-29-08
SAGINAW, Texas—T. Boone Pickens says they're the wave of the future. But a wind turbine meant to generate electricity for one Saginaw family has sparked a huge headache for their neighbors.
"It makes a terrible 'air raid' noise," said Debbie Behrens, talking about the high-pitched whine made by the turbine. "It's driving me crazy."
What's worse—Debbie and her son Lance both say that the high-pitched hum is now causing physical problems.
"You occasionally have the dizziness," Lance explained, "The ringing in the ears; I've never experienced the ringing in the ears."
It turns out there is a documented health condition associated with the noise generated by some windmills called "Wind Turbine Syndrome."
Symptoms include headaches, dizziness, nausea and ringing in the ears, known as tinnitus.
Dr. Lee Wilson of the UT Dallas Callier Center says the noise from most turbines isn't loud enough to cause actual loss, but constant sound can cause other problems.
"Any kind of thing like that has the potential to affect those kinds of feelings," Dr. Wilson said. "And they're real. I mean you're really sick, nauseated, but it may be a result of some anxiety that's related to what you're hearing rather than the actual sound."
Because there aren't many windmills around, Dr. Wilson hasn't yet seen any cases.
And not every turbine makes that whine.
For example, the giant mills near Sweetwater make a quiet thump as they spin.
Doctors say some people are more sensitive to constant sound than others.
Debbie Behrens and her son Lance say they've suffered since a neighbor installed a wind turbine.
The people who installed the small, residential turbine in Saginaw aren't bothered at all.
But the Behrens believe without attention and—potentially—regulation, wind turbine noise could become a major problem in neighborhoods as the country switches to more eco-friendly energy sources.
Some science shows turbines should be at least a mile away from homes.
The turbine that stands 50 yards from the Behren's back door is loud enough to make them want to move.
"My life savings is in this house," said Debbie, "but, I would not live with that going here for the rest of my life, no."
E-mail jstjames@wfaa.com (Be sure to remove the period that appears when you click on this email address—a period appears between "st" and "james.")