"I can't go home. It's not home anymore." (United Kingdom)
May 12, 2009




Print Article
"I can't go home.  It's not home anymore. You walk into a cold damp house and remember the memories, then remember what has taken them away, and it hits like a brick wall travelling at 100 mph. Then all the emotions you've been suppressing rise and you get so angry"—Anonymous, UK (5-11-09)*
*For reasons that become obvious as you read on, this young woman has requested that her name be withheld—Ed.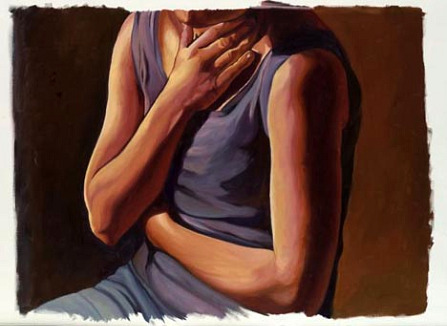 "Grief V," by Donna Cleary, with appreciation
It's not fair.  I'm young.  Three years is a long time, and so far it's ruined my life.  I'm attempting to rebuild it, now, but every time I go back it's painful.
I can't go home.  It's not home anymore. You walk into a cold damp house and remember the memories, then remember what has taken them away, and it hits like a brick wall travelling at 100 mph. Then all the emotions you've been suppressing rise and you get so angry.
I have dreamed of very imaginative ways to get rid of them. None, I feel, will work, and if they did I'd go to jail.
I can't express the hate and anger I feel.
So how has a wind farm 900 metres away from my home affected me? It has changed me forever, changed my life forever. It has ripped every foundation I ever had and replaced it with chocolate—strong when cold, but as soon as it gets warm, it melts.
You can say, I know how it feels.  You will never, never know how hard life has been until you've had your world pulled from you while you've been kicking and screaming.
Sometimes it just would have been easier to jump.