Wisconsin fiasco
May 14, 2009




Print Article

Butler Ridge Project near Iron Ridge, Wisconsin, May 2, 2009, with thanks to Better Plan Wisconsin.  (WTS.com has taken editorial liberties with this photo.)
On May 12, 2009 the State of Wisconsin Assembly and Senate Committees on Energy held a joint public hearing.  They listened to 8 hours of public testimony regarding Assembly Bill 256 and Senate Bill 185, which propose to remove all decision-making for wind energy projects from municipalities and give it to the state Public Service Commission.  (This being the same PSC which has bowed to wind developers and approved 1000′ setbacks from homes like this one, above.)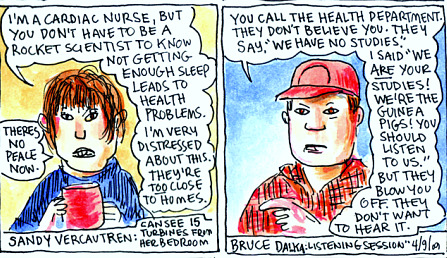 Click here for Lynda Barry's rendering of some of the testimony
Hundreds of rural Wisconsinites turned out for the hearing.  They testified by the dozens, even as panel members drifted in and out of the room, and as panel members showed their obvious disdain and indifference to everything being said.  Among presenters, there were tears, there were shaky voices, there was anger, there was sorrow.  There was dignity and courage.  There was eloquence.  There was cogency.  And there were statements made that were, yes, technically irrelevant to the immediate issue of whether to turn over all control to the PSC, but were in no way irrelevant to the outrage of placing turbines in the speaker's backyard. 
Happily, the entire proceeding was professionally videotaped by Wisconsin Eye, which appers to be a public interest group covering Wisconsin politics and legislation.  WTS.com urges you to fix yourself a bowl of hot buttered popcorn, sit back, and watch the whole shebang.  It's an eye opener.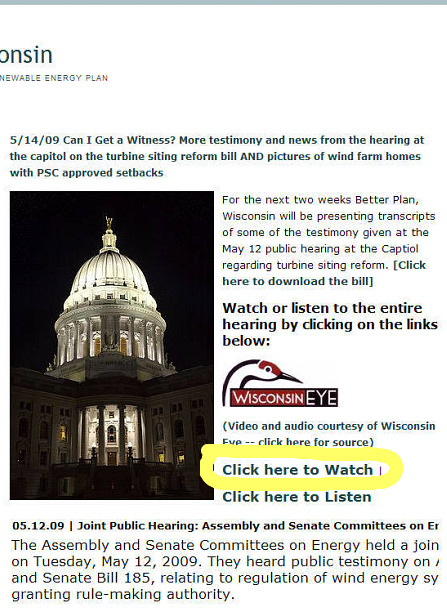 Click here to be taken to the Better Plan Wisconsin website.  Scroll around till you find the above screenshot.  Click on "Click here to Watch."  Have a box of tissues handy for tears.