Does this sound familiar?
Apr 10, 2010




Print Article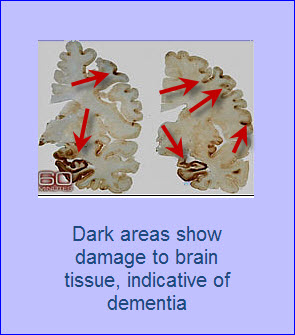 Chronic Traumatic Encephalopathy in athletes (photo courtesy of 60 Minutes). Click here for clinical article.
Compare this statement . . .
For many years, the National Football League insisted that "high rates of dementia in former players either did not exist or could not be ascribed to football" (NY Times 4/10/10).
To this one . . .
For many years, the wind energy industry has insisted that Wind Turbine Syndrome either does not exist or cannot be ascribed to wind turbines.
The other day, a wind developer testifying before Wisconsin's Wind Siting Council put it this way:
"What starts out as an aversion to the idea of wind turbines nearby can, with some people, evolve into an ongoing source of stress, which could have health-related consequences. The Council should weigh these essentially self-imposed health effects against the overall public benefit of clean energy generation."
The legislative assembly of the state of New South Wales, Australia, put it this way:
"The Committee is concerned that the significance of 'Wind Turbine Syndrome' is being unnecessarily exaggerated because Dr Pierpont is a medical doctor and has published a book on the issue, rather than any scientific merit of such a syndrome. As a result, a degree of fear is being instilled in communities that may host wind turbines. The Committee is concerned that, based on evidence received, this unwarranted fear may be causing greater health impacts than the presence of any actual 'Wind Turbine Syndrome.'"
There is a medical doctor working with football concussion victims and their families, demanding that the National Football League and the Congress come to grips with concussion-caused early dementia in former players. Her name is Ann McKee, MD. She has testified before Congress, and is making progress at turning football into a safer sport.

Ann McKee, MD, Professor of Neurology & Pathology, Boston University School of Medicine (photo courtesy NY Times)
There is a medical doctor working with Wind Turbine Syndrome victims and their families, demanding that the wind energy industry come to grips with the constellation of illnesses associated with living near industrial wind turbines. Her name is Nina Pierpont, MD, PhD. She has not testified before Congress, because Congress is disinterested—in fact, it's more interested in giving billions of dollars to this completely unregulated industry—and Pierpont is making zero progress with Big Wind in establishing safer turbine setbacks.

Nina Pierpont, MD, PhD, Fellow of the American Academy of Pediatrics, former Assistant Clinical Professor of Pediatrics, College of Physicians & Surgeons, Columbia University, NY