Dr. Pierpont said "Yes!" (Australia)
Mar 1, 2011




Print Article
Dear Dr Pierpont,
As you are aware, the Senate Community Affairs References Committee is currently conducting an inquiry into the social and economic impacts of rural wind farms, and to which you made a submission.
The Committee will be holding a public hearing on Friday, 25 March 2011 in Canberra. The Committee would like to invite you to appear via teleconference from 10.00 am to 10.45 am AEDT (7.00 pm to 7.45 pm on Thursday, 24 March 2011 in New York, NY).
Can you please advise at your earliest convenience whether you are available to appear at this time; and if so, please provide the telephone number on which the Committee can reach you?
Yours sincerely,
Sophie Dunstone
Senior Research Officer
Senate Standing Committee on Community Affairs
·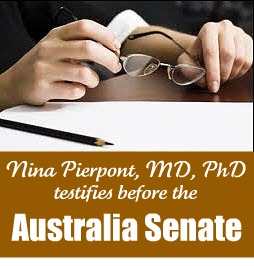 Dr. Pierpont said "Yes!"