Finally, a govt. has the balls to shut down loud (infrasonic) windfarm! (Scotland)
Jun 11, 2011




Print Article

·


Local government shuts down windfarm after neighbors' noise complaints to windfarm operator are routinely ignored

·
—Caroline McMorran, The Northern Times (6/9/11)

The local authority has forced Scottish and Southern Energy (SSE) to shut down a Sutherland wind farm after the company breached planning controls by failing to deal with excessive noise from the development.

People living close to the Achany wind farm near Rosehall are claiming their lives are being made a misery by the constant noise, and are angry that their complaints are being ignored.

Editor's note:  We interrupt this newspaper story to present the following screenshot from Scottish and Southern Energy's website, trumpeting their principles (misspelled "principals") of something they call "corporate responsibility."

No kidding!  They actually wrote this down and posted it!  You couldn't make this stuff up!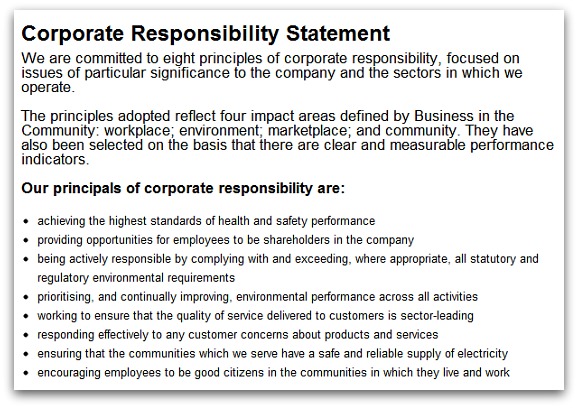 In an unprecedented move, Highland Council issued a temporary stop notice on the 23-turbine wind farm at 3pm on Monday.
The turbine blades at the £55 million, 40MW windfarm, which came on stream in July last year, stopped turning that night.
The stop notice will remain in place for a month, until July 4, with the shut down representing a huge financial loss to the power company.
Highland Council's principal planner Gordon Moonie confirmed yesterday (Thursday) that it was the first time the authority had issued a notice of this type.
He said he was unaware of any other council taking similar action.
"This temporary stop notice was introduced under a 2006 Act and it hasn't been used very often, but it is quite an effective way of dealing with a breach of planning control. In a sense it affects the company where it hurts—in their pocket," he said.
Mr Moonie revealed that the problems with Achany had been ongoing for about a year, with constant complaints to planners about noise.
"We were getting complaints from the local people and the community and we weren't getting any action from SSE, so we decided that the best way forward was to serve this temporary stop notice," he said.
"It means that the windfarm has to cease operating and we can then get round the table and agree a way forward that is in everyone's interest."
According to the stop notice, SSE breached planning controls by failing to provide a scheme for mitigating noise levels prior to the development coming on stream.
They also failed to comply with a request to measure noise levels at two local properties—Rosehall Cottage and a home at Durcha—when specifically asked to do so following complaints from the householders.
The Durcha property is just 2km away from some of the turbines.
The company has further breached planning controls by failing to notify the local authority of the date the development first supplied electricity to the National Grid.
Local resident Andy Simpson is the chairman of Kyle of Sutherland Against Braemore (KoSAB), the group protesting against a proposed wind farm at Braemore, near Lairg.
He told the Northern Times: "The householder at Durcha has been complaining bitterly about the noise in certain weather conditions and said it has made life unbearable at times.
"Therefore, I'm really pleased that Highland Council have done the right thing.
"However, it gives me grave concern that a developer appears to have dismissed a genuine noise complaint once a wind farm has been constructed.
"This surely shows scant care or empathy for local communities from these large corporates."
He added: "An even greater cause for concern is the proposal for Braemore windfarm which KoSAB estimate is within 2km of 83 houses."
Rosehall resident Colin Gilmour, who chaired the Achany Windfarm Liaison Group said: "When Achany became operational in July 2010, we closed the liaison group down because in effect we did not really have any more to do with the development and we were not aware at the time that SSE had not met these conditions.
"However, the issue of noise from Achany has come up at the liaison group set up for the Rosehall Hill wind farm which is being constructed by E.ON.
"There is now a worry that houses at Durcha could be affected by noise from both wind farms and that one operator will blame the other.
"They need to sort out the Achany issue before Rosehall Hill wind farm becomes operational."
Mr Gilmour continued: "The householder at Durcha is particularly affected when the wind is coming from the north-east or in certain weather conditions. But he will be even closer to some of the Rosehall Hill turbines.
"Highland Council became a bit exasperated in the end with SSE over Achany because they just didn't meet the conditions."
When asked for a comment, a spokesman for SSE yesterday (Thursday) responded: "Following a request from the Higland Council, we have temporarily suspended generation at our Achany wind farm, near Lairg. We are working closely with council officials and will be meeting representatives later today. We are confident that we can reach an agreement with the council very quickly."