"One-third of the dairy herd died since the turbines began operation" (Wisconsin)
Sep 2, 2011




Print Article
·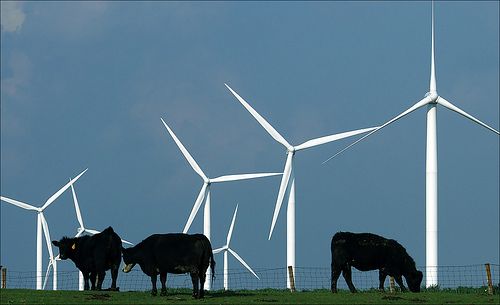 This image was added by WTS.com
·
—Sandra Johnson, Greenleaf, Wisconsin, in Madison.com (9/2/11)
·
What if siting massive 50-story industrial wind turbines close to peoples' homes harms them, kills animals and disrupts lives?
All of this has happened to several families in southern Brown County, Wisconsin.
One couple tried to live with the six 50-story turbines west of their property, but she [the wife] had migraine headaches after the turbines went online in December 2010. They could not adjust to the low frequency noise emitted by the giant machines. My husband and I were invited to visit their home in April after they left to stay with their daughter. We all wondered if the swallows would return in May to their mud nests in the barn. They did not.
Recently, I learned of another farm family in the shadow of wind turbines who were having similar health problems. Their three children are now living with their grandparents, where their headaches have subsided. One-third of this farmer's dairy herd have died since the turbines began operation. An autopsy of a calf showed no infectious cause for its death.
What now? For the past 20 months, I and my neighbors have written letters, paid for billboards and testified at hearings appealing to our representatives and State Board of Health for a moratorium until epidemiological studies can be done in Wisconsin wind projects to find the answers needed to help these families and others like them.
We are all still waiting.