Wind turbines on ridgelines is madness (W. Va.)
Nov 4, 2011




Print Article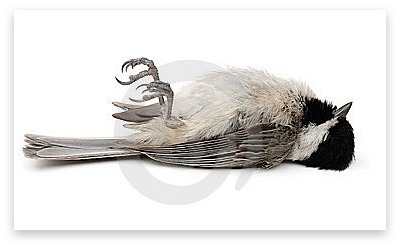 Laurel Mountain Wind Project Bird Kill
.
—Laura Jackson, President, Save Our Allegheny Ridges.
The massive bird kill at the Laurel Mountain wind facility near Elkins, West Virginia in early October is another example of tragic environmental consequences caused by industrial wind development.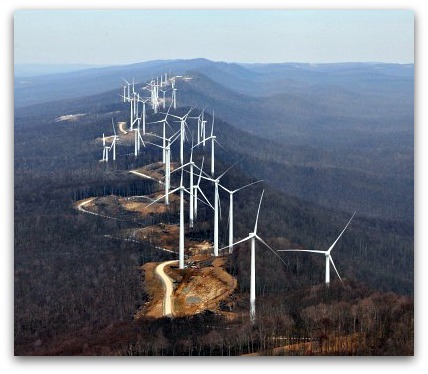 Laurel Mountain windplant, W. Va.
The American Bird Conservancy reported on October 28, 2011 that almost 500 birds were "reportedly killed after lights were left on at an electrical substation."  That report was confirmed when Stantec Consulting Services Inc. reported to the U.S. Fish and Wildlife Service that 8, 250-watt high pressure sodium lamps were left on at the Battery Energy Storage System at the Leadsville substation, part of the AES Laurel Mountain wind facility.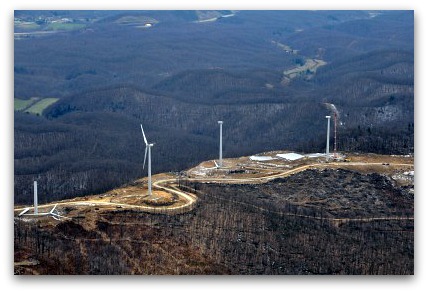 Laurel Mountain windplant, W. Va.
AES staff found a significant number of dead birds on October 3, 2011 that appeared to be fresh kills. The weather over the weekend of October 1 and 2 was poor—high winds, low clouds, thick fog, and cold temperatures.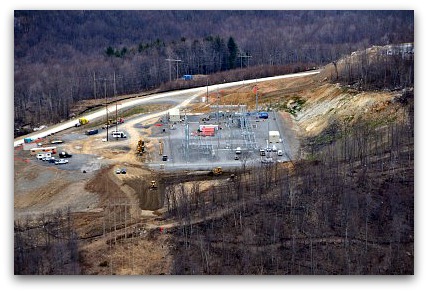 Leadsville substation, Laurel Mountain windplant
The Leadsville substation was built as part of the wind project, and is located at a high elevation in a largely forested area. It is presumed that low visibility weather conditions kept the migrating birds flying low over the ridge. When they encountered the lighted substation, it's theorized they became disoriented and flew into the substation structures, which caused mortality.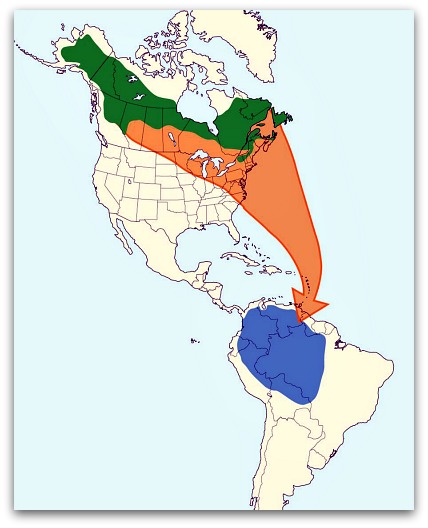 Blackpoll warbler fall migration route
According to the Stantec report, a total of 484 dead birds were collected at the substation during searches between October 3 and 18, 2011. Searchers found 310 dead blackpoll warblers and over a dozen other different species of warblers. A sora, ruffed grouse, Virginia rail, and pied-billed grebe were also killed, as well as 9 unidentified birds.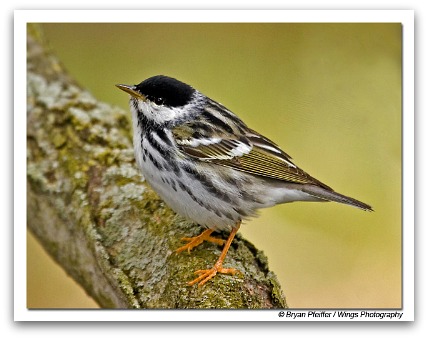 Blackpoll warbler, spring plumage (With thanks to Bryan Pfeiffer, Wings Photography)
(Fortunately, no bat carcasses were found, and no multiple-fatality events caused by turbines were reported.)
Three issues need to be understood: The first deals with negligence on the part of the Laurel Mountain wind project personnel. Kerlinger and Curry documented a multiple-fatality event of 33 birds at the Mountaineer wind project in 2003 and stated that lights should never be left on at night.  (Click here for their report.)  Other biologists have reported on bird kills caused by low visibility, high elevations, and lighting.
The Laurel Mountain wind developer should admit that this bird kill was due to gross negligence and should pay a substantial fine. A substantial fine would send a message to other developers that negligence is costly to both birds and wind companies.
The second issue deals with mountain top development—be it caused by industrial wind, coal mining, or drilling for Marcellus shale gas. Our forested ridges in the northeast are important migratory routes for thousands of birds and bats both spring and fall. Industrial development should not be permitted on the migratory ridges. The United States Fish and Wildlife Service (USFWS) recognizes this, but has not developed any mandatory regulations to protect our forested ridges. Voluntary guidelines do not offer any substantial protection and should be replaced with enforced regulations.
The third issue is one of monitoring and reporting. AES staff found significant numbers of dead birds on October 3, 2011, and reported their find to Stantec staff, who reported the mortality to West Virginia Division of Natural Resources (DNR) and to the U.S. Fish and Wildlife Service (USFWS) by telephone on the afternoon of October 3. There is a long history of wind developers hiding data behind claims of "proprietary information" and refusing to divulge facts to the public.  Fortunately, this was not the case at the Laurel Mountain substation, since the USFWS has released Stantec's report. We have asked the USFWS to report the details of this event on their website, in a similar manner to the announcement that an Indiana bat was killed recently at the North Allegheny wind project in Pennsylvania.
Low cloud cover and fog are common events on our mountains and were not problems for migrating birds and bats until human development transformed our forested mountains into industrial development areas. It is clear that lighting should be regulated, so tragedies like the Laurel Mountain bird kill do not occur again.