"Health impact of wind farms" (Australia)
Nov 15, 2012




Print Article
Editor's note:  Australian radio host, Alan Jones, interviews Australians suffering from Wind Turbine Syndrome.  He also interviews Australian noise engineer, Steven Cooper, about the noise and vibration from industrial turbines.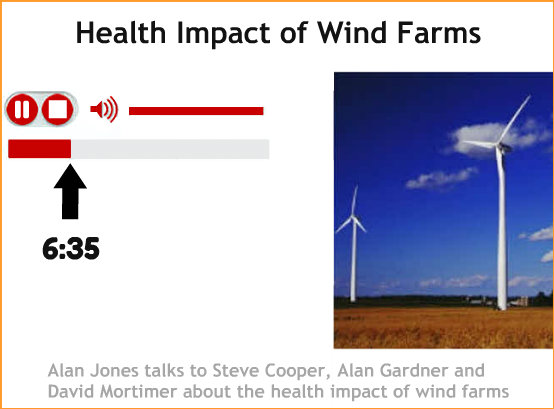 .
Instructions:
» Click anywhere above. You will be taken to a window which looks like the above screenshot.  The radio interview will begin automatically, as soon as you open the new window.  (Be sure your speakers are turned up.  You can adjust the volume with the "volume slider" to the right of the red buttons.)
» When the audio begins, you will see a red bar begin to materialize at the left side of the "progress bar." Click to the right of the red bar, in the gray area, till you reach the 6 minute 35 second mark (6:35). This is where the interviews begin. The material before that is extraneous to the interviews.