"A true noise hell": Wind turbines in Denmark
Jan 15, 2013




Print Article
Editor's note:  The following is a translation of a recent article on wind energy in a prominent Danish news magazine.  There are several parts to the article, including an interesting exposé of Vestas (one of the world's leading manufacturers of wind turbines) complaining to the Danish government that recently proposed noise standards will severely damage Vestas's business ventures, both in Denmark and abroad.
The translation was done by a Danish friend of this website.  Click here for the original article.
.
"A true noise hell:  Erik Nielsen had looked forward to a peaceful retired life, but the idyll and nocturnal sleep are destroyed by giant wind turbines"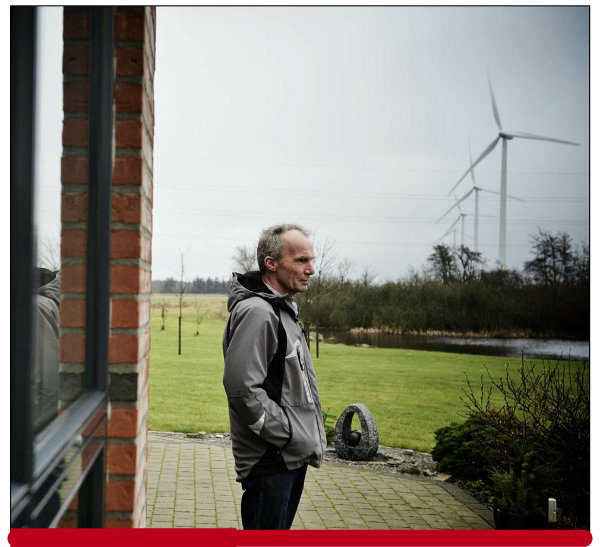 "As a consequence of the noise & sleepless nights, Erik & Rigmor Nielsen are looking for a small cottage, where they can get peace."
While thousands of people have to live in a noise hell from the giant wind turbines, which both [neighbor] associations and acoustic experts are raging over, the politicians have done nothing to investigate the matter properly.

The fact is, according to the Chairman of the Danish Society for Labor- and Environmental Medicine [DASAM], Vivi Schlünssen, it has not been properly investigated whether the many Danes who are daily exposed to tremendous noise from wind turbines are harmed by it.

"We are very concerned that the new regulations [of Jan. 1, 2012] on noise from wind turbines, have been conceived completely without investigating if people are harmed by living in constant noise."

Doctors not asked

"The noise limits have been determined by engineers. There has not been a single medical doctor involved," she says.

Vivi Schlünssen emphasizes that wind noise is very different from, for example, noise from a highway.

"Although the noise from the turbine is often lower [in amplitude], it is continuous, especially [a problem] at night, when the annoyance is increased."

– The new rules [statutory order 1284 of Jan, 1, 2012, including low frequency noise] were conceived far too quickly.

"Our primary criticism is that it is not right that people should have to live with great noise nuisance, especially at night when it can interfere with their sleep," says Vivi Schlünssen, who emphasizes that the problem of noise from wind turbines should be fully investigated.