"Never again!" A response to the Mass. "Wind Turbine Syndrome" report
Jan 18, 2012




Print Article
.
Editor's note:  This "call to outrage" is written in reply to the State of Mass. issuing, yesterday, its shameful "report" on Wind Turbine Syndrome.  Click here for the report.  Click here for a reasonable article on the report in today's Boston Globe.  (Unlike the self-proclaimed "expert panel" which created the report, the Globe reporter in fact interviewed Dr. Pierpont and a Falmouth WTS victim, John Ford.)
—Marshall Rosenthal (Massachusetts)
To all my brothers and sisters in every nation and land, let today, a day of infamy and disgrace committed by the State of Massachusetts at the behest of its deceitful Governor Deval Patrick, be the day that we come together in the common resolve to end the torture and dismissal of the suffering of the victims of the onslaught of Industrial Wind Turbines.
You who live in the shadow of these monsters, are the evidence. You will not be found in the closely vetted scientific journals that are edited by academic fascists in order to safely skew the so-called "facts" to promote a conspiracy driven by power and greed. They know the Ceasar to whom they are beholden for their grant monies.
We must now consider our real options. I have called for the outlandish bringing of our case before the International Court of Justice. I am driven to do this because it is clear to me that no other peaceful recourse is open to us. Industrial Wind Power relies for its perpetuation on projecting a repeated lie to the proportions of a "green" religion upon the world consciousness.
We can pick this lie apart, piece by piece, as the Big Wind perpetrators would like us to do, OR WE CAN CHALLENGE THEM FOR THE WORLD CRIMINALS AGAINST HUMANITY THAT THEY ARE.
We, Jews, learned the mantra "Never Again" after the Nazi Holocaust. Now, a new holocaust assaults the world. The enemy has been very canny in marginalizing its victims. We are seen as cranks, complainers, and such, not to be taken seriously. In their private meetings we are considered as so much collateral damage, political roadkill, to be ignored and swept aside as so much garbage, just like the six million of us Jews were gased and burned up in that other Nazi nightmare.
I am their worst nightmare! I am of the generation that survived their efforts of extermination! I am the evidence of humanity that reaches out with arms of love to every victim, to every person who has or will be made to pay with their well-being for the profit grubbing combine of corporate industry and cowardly state liars that comprise the rotten fascist cloth of industrial windpower.
Let us stand up now. Let us find the ways to build the international case against these criminals against humanity. Let us hold EACH of them accountable for the harm that they have done. Let us tell them and the whole world, NEVER AGAIN!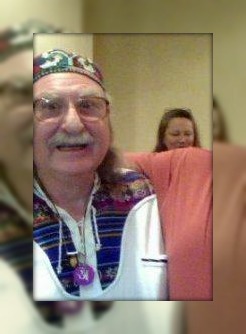 "Marsh" Rosenthal