Do wind turbines cause high blood pressure?
Nov 30, 2010




Print Article
Do you live within 5 km of wind turbines?
·


If you do, this medical doctor thinks you should take early morning blood pressures.

·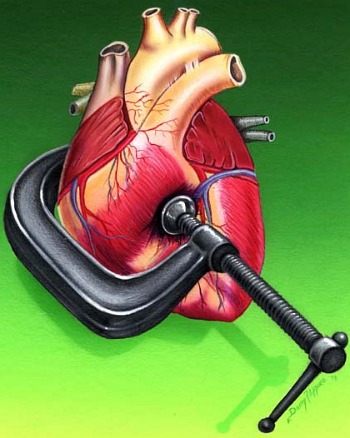 Sarah Laurie, MD
Medical Director
Waubra Foundation
Australia
November 28, 2010
Just in the last week, I have become aware that there appears to be a connection between turbines operating and some people experiencing raised early morning blood pressures. This is highly significant, as early morning raised blood pressures are a well known independent marker or risk factor for heart attacks.
What is being noted is that people's blood pressures are "normal" when the turbines are off first thing in the morning (and have been off overnight), and are elevated when the turbines have been operating. Early morning blood pressures are best measured immediately upon waking, before any food or drink, particularly stimulants like tea or coffee.
I have been made aware of a number of heart attacks & strokes occurring in the population north of the Waubra wind development since the turbines started operating, and just this morning I have been advised of two heart attacks occurring in apparently previously healthy men who live adjacent to the Waterloo Wind Development in the Mid North Region of South Australia.
I do not want to be alarmist about this, as these could be coincidental, but nevertheless there could be a link with turbine operation.
The only way we are going to find out what is happening to blood pressures is to measure them. Ideally, we could collect good data if everyone who lives within 5km of a turbine or banks of turbines gets a blood pressure monitor and starts measuring their blood pressures every morning. If you are able to measure it at other times of the day that would be great, too.
It is important to make sure that the blood pressure monitor you have is accurate—the best way to check this is to take it to your physician and make sure that your monitor and the physician's monitor are reading around the same blood pressures.
Blood pressures are affected by many things, and can go up and down over the day for a variety of reasons. I do not want people to be unduly alarmed by this, but please be aware that if you are experiencing chest tightness, chest pain, or new indigestion, that it could be associated with your heart and it would be important to seek urgent medical advice if this is occurring.
Please take your sheets of recorded blood pressures (BP) to your doctor to discuss with them, particularly if your BP is regularly over 140/80, or if your blood pressure first thing in the morning is among the highest readings of the day.
The more often you can do this, the better.
If anyone has any questions, please do not hesitate to contact me, either by email or by phone (08 8636 2051, 0439 865 914), malpasarah@westnet.com.au.