This man thinks WTS research is worth pursuing (Harvard Med. School)
Sep 17, 2011




Print Article
Some weeks ago I sent an email to this man.  Dr. Nelson Kiang.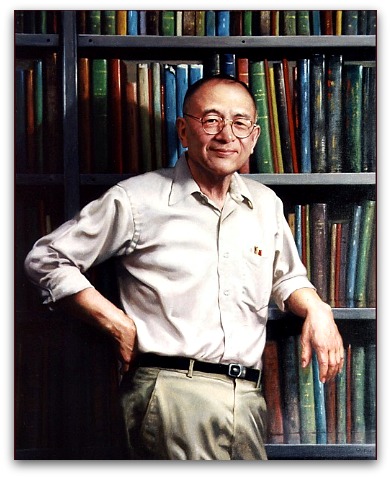 Professor Nelson Yuan-Sheng Kiang, PhD
Harvard Univ. School of Medicine
·
Why did I write him?  Because Dr. Alec Salt, at the Washington Univ. School of Medicine, had given a paper at Harvard Medical School in April of this year on his research pertaining to Wind Turbine Syndrome.  Salt's presentation focused on the role of the mammalian cochlea under infrasonic stimulation similar to that generated by wind turbines.
It turns out that Dr. Kiang was in the audience.  At the end of Salt's presentation, Kiang raised his hand and said something to the effect that the (inner ear) vestibular organs were likely involved, as well.  (Those of you who have read Dr. Pierpont's book, "Wind Turbine Syndrome," will immediately recognize this as her main thesis.)
Anyhow, Dr. Kiang wrote back to me last week, with the following observation.
There isn't much [research? literature?] on  the specific involvement of the human vestibular system in WTS. However, there is every reason to pursue the idea [emphasis added].
He closed by inviting Dr. Pierpont to discuss this further, when he returns early next month (October) from a trip abroad.  (She will do so.)
Now, take a look at this man's credentials.  This is precisely how he listed them below his name in his email.  Compare these creds to those of the wind salesmen who brazenly assure their audiences, "Wind Turbine Syndrome?!  Complete rubbish!  Merely an invention by Pierpont and other screwballs."
While you're at it, compare Kiang's credentials to all the people who wrote the farcical AWEA-CanWEA rebuttal to Pierpont.
Eaton-Peabody Professor (Emeritus)
Harvard-MIT Division of Health Sciences and Technology
and
Department of Brain and Cognitive Sciences
Massachusetts Institute of Technology
Professor of Physiology (Emeritus)
Department of Otology and Laryngology
Harvard Medical School
Founding and Former Director
Eaton-Peabody Laboratory,
and
Trustee,
Massachusetts Eye and Ear Infirmary
Neurophysiologist (Emeritus)
Neurology Service
Massachusetts General Hospital
Founding and Former Director
Speech and Hearing Sciences Graduate Program
Harvard-MIT Division of Health Sciences and Technology
Lastly, compare Kiang's credentials to those of the "expert panel" convened by the Massachusetts Dept. of Environmental Protection and the Dept. of Public Health to look into the credibility of WTS.
Notice, two of them have PhD's in Mechanical Engineering—real relevant to clinical medicine, huh?  A third member has a PhD in Biochemistry—likewise totally irrelevant.  That's 3, right off the bat, with non-starter credentials.
Two of the remainder are junior faculty—assistant professors, hoping to get tenure—which means they're not likely to stick their necks out on such a politically charged issue.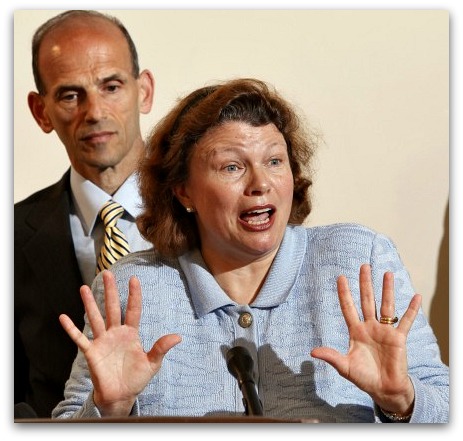 Dora Mills, MD, MPH
The cherry on top of this weird confection is Dr. Dora Mills, former commissioner of health for the State of Maine.  In that capacity Dr. Mills demonstrated her disdain for Pierpont's work and other relevant research.  (Additional relevant research?  Click here and here and here and here and here and here and here and here and here and here and here and here and here and here and here and here and here and here and here and here and here.  None of this seemed to make a dent on the 10-fingered commissioner.)
When this gang issues its report, what do you bet it will be at best a whitewash and at worst a total rejection of Wind Turbine Syndrome?  Either way, wind turbines will continue to be built in Mass., cheek-by-jowl to people's homes.
But I digress.  Back to Dr. Kiang.  Why does Big Wind and its hireling physicians and junk scientists maintain just the opposite:  "There is no reason to pursue research on WTS"?  (Click here and here.)
Do you smell something "fishy"—as in, "these people are practicing fraudulent medicine and science"?  Is it for the sake of the wet dream of "saving the world from global warming by means of infrasound-generating pinwheels all over the place"?  Or is it that in combination with the fat consultant fees they garner?
Both explanations are plausible, even probable.
If these people were ever genuine physicians (Hippocratic Oath:  "Do no harm") and bona fide scientists at some point in their careers, they certainly are not, now.  (Science pursues real evidence and real truth—truth that is sometimes as screamingly obvious and as politically inconvenient as Wind Turbine Syndrome.  Science is not led by wishful thinking pumped up by consultant fees, research grants, and academic advancement.)
·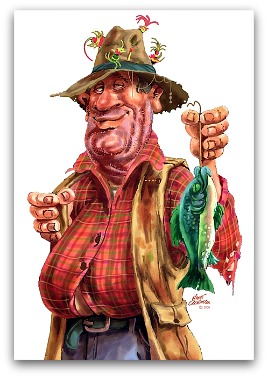 With thanks to the artist, Nate Owens