Wind turbines disturbing your sleep? How's your heart? (United Kingdom)
Feb 11, 2011




Print Article
·


"If you sleep less than 6 hours per night and have disturbed sleep, you stand a 48% greater chance of developing or dying from heart disease, and 15% greater chance of developing or dying of stroke"—Francesco Cappuccio, MD
·
Editor's note:  Francesco Cappuccio, MD, is the Cephalon Professor of Cardiovascular Medicine & Epidemiology, University of Warwick School of Medicine (UK).  He is also the Head of the World Health Organization Collaborating Centre for Nutrition, and Director of the European Centre of Excellence in Hypertension and Cardio-Metabolic Research.  He can be reached at Patricia.McCabe@warwick.ac.uk (his secretary).
Michelle A. Miller, PhD, is a biochemist/molecular biologist at the University of Warwick School of Medicine, where she has established "a programme of national and international research in cardiovascular biochemistry and epidemiology."  She can be reached at Michelle.Miller@warwick.ac.uk.
Click here for the News Release from the School of Medicine, University of Warwick, from which the following BBC article is taken.  Drs. Cappuccio and Miller published their paper in the European Heart Journal 2/8/11, a peer-reviewed clinical journal of distinction.
WTS.com suggests you download the article and give it to your town board and to the wind developers who dismiss WTS as moonshine.  Click here for the abstract of the article.
"People reporting consistently sleeping 5 hours or less per night should be regarded as a higher risk group for cardiovascular morbidity and mortality" from the authors' "Conclusion," p. 8.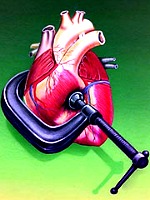 —BBC News (2/8/11)
A long period of sleep shortage increases the risk of heart attacks and strokes, according to scientists.
They found most people need between six and eight hours of sleep a night to protect their health.
Professor Cappuccio and co-author Dr Michelle Miller, from the University of Warwick, conducted the research.
They said they followed up evidence from periods of seven to 25 years from more than 470,000 participants from eight countries including Japan, the USA, Sweden and the UK.
Professor Cappuccio said: "If you sleep less than six hours per night and have disturbed sleep you stand a 48% greater chance of developing or dying from heart disease and a 15% greater chance of developing or dying of a stroke.
"The trend for late nights and early mornings is actually a ticking time bomb for our health so you need to act now to reduce your risk of developing these life-threatening conditions.
"There is an expectation in today's society to fit more into our lives. The whole work/life balance struggle is causing too many of us to trade in precious sleeping time to ensure we complete all the jobs we believe are expected of us."
Dr Miller added: "Chronic short sleep produces hormones and chemicals in the body which increase the risk of developing heart disease and strokes, and other conditions like high blood pressure and cholesterol, diabetes and obesity."
Professor Cappuccio also warned that getting too much sleep—of more than nine hours at a stretch—may be an indicator of illness, including cardiovascular disease.