Journalist insists wind developers aren't thugs or a**holes (Australia)
Sep 17, 2012




Print Article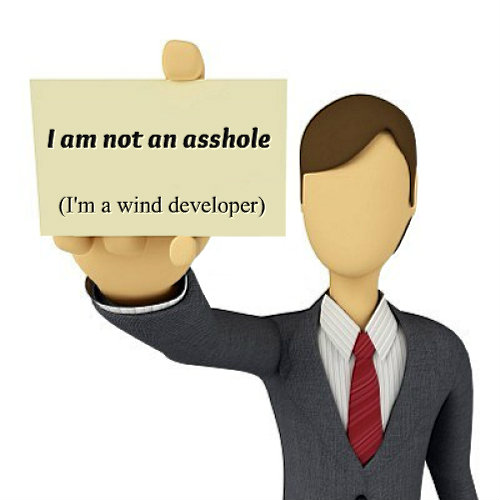 .
—Calvin Luther Martin, PhD
There is a journalist in Australia who ferociously insists wind developers should not be called thugs and a**sholes.  (Don't believe me?  Click here.)
Frankly, I find the man's objections surprising.  I would like to ask him, "Why not?"  (I mean, journalists are supposed to have integrity, do their homework, tell the truth, stick to facts, blah blah blah.  Right?)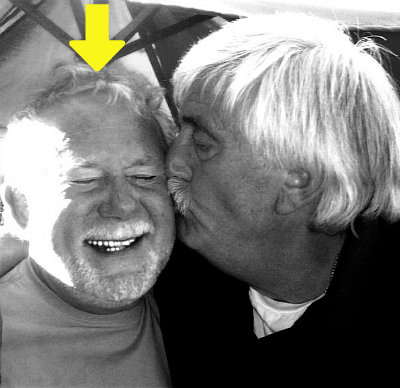 Derek ("I tell the truth") Maitland & friend
The guy's name is Derek Maitland, whom I would like to address rather personally.  (If you are squeamish about personal and, um, anatomically-enriched language, stop reading here.  Long ago I was a biologist.  Comparative anatomy was one of my favorite courses.)
Derek, buddy!  Take a look at this photograph.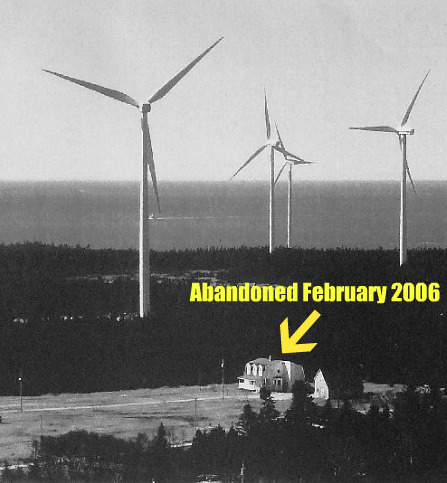 The family who lived here was driven out by a wind developer.  Derek, stop jerking off over wind turbines and listen up:  What do you call someone who drives people out of their homes?  A thug, maybe?  A criminal degenerate?  Villain?
Derek, you misunderstand something fundamental about me and my colleagues & spouse:  I began calling these people thugs and bums and bullies and a**sholes and all that, not for their benefit or yours—but to warn NIMBY's around the world (NIMBY:  Next Idiot Might Be You) that the wind developer schmoozing them and their town board was a villain of the worst sort.  Someone who makes you profoundly ill and tosses you out of your home is a villain—wouldn't you agree?  (Ever read Charles Dickens?  He had plenty to say about this.)
Derek, words like a**hole were positively invented for people like that!  I know you didn't go to college and stuff, but if you had you might have learned that language is beautiful and, well, it's "okay."  Use the language generously, not feebly or narrowly, and bring its full symphonic richness to bear where needed—as in labeling people-who-make-you-sick-and-eject-you-from-your-home "a**holes."  (Some people would add the adjective "f**king" in front of "a**holes."  That's okay, too.  Don't panic; really, it's okay.  You call yourself a journalist; get a grip!)
What, after all, are you going to call them?  "Businessmen"?  "Wind developers"?  (Are the Mafia businessmen?  Were the Nazis who ran the death camps social workers?  When you've been made homeless and sick to the point where you can barely function, all in the name of "this is good for the fatherland"—doesn't that bring to mind Nazis?)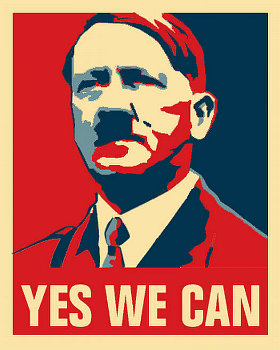 What really clinches the aptness of the nomenclature (look it up) is that these, well, a**holes don't stop.  Absolutely refuse to stop!  They have now done this foul deed to many people virtually around the world.  Australia, even.  Lots of abandoned or "forced-sale" homes in Australia, Derek!  Where academics like Simon Chapman soil themselves by ridiculing these victims as dupes of people like me and Dr. Pierpont and Dr. Laurie.  (In confidence, I have sometimes wondered whether God, not content with denying Mr. Chapman the faculty of thinking, perversely endowed him with the faculty of writing.  Have you ever seen his c.v.?  Comes with a Table of Contents.  But I digress.)
Derek, I'll make you an offer you can't refuse.  Nina & I will actually contribute serious money to your living in the abandoned home of one of these Wind Turbine Syndrome victims.  But you've got to give it 3 months.  Yeah, live there 3 months, minimum.  You pick the country.  Canada?  USA?  Australia?  New Zealand?  France?  Italy?  Scotland?  Ireland?  England?  Germany?  Scandinavia?  Even Japan?  There's more countries; these merely come to mind.  (Why do you think Pierpont's book has been translated into 8 foreign languages, with #9, Danish, in the works?)
You pick the country; I'll make the arrangements.  You see, buddy, I hear from all these people, beginning years ago with the d'Entremonts in Nova Scotia, Canada (see the aerial photograph, above).  I get the phone calls, or my wife does, and we get the emails.  Thousands of 'em in the 8 years we've been dealing with wind developer a**holes.
Derek, before sealing this letter with a kiss—see picture, above—I think it's fair to say you consider Wind Turbine Syndrome to be complete bullshit, correct?  (Is it okay if I use that word?  Maybe you'd feel better if I wrote it "bulls**t"?)  I mean, that's why you wrote that article, after all—correct?
By the way, you got a whole sh**t-load of your information wrong.  Just two examples:  (a) I'm not the guy in the photograph.  That's the retired Director of the Wead Memorial Library in Malone, NY.  David Minnich.  Friend of mine.  The guy, below, is me—with my better half, Nina Pierpont.  (b) Secondly, the snappy line "never rose above the rank of Associate Professor because, shortly after getting tenure, he refused to attend another department meeting, since he discerned that department meetings cause early dementia"—I wrote that for the Kerulos Center.  (An international organization that seeks to protect animals from violence.  I'm on their faculty.)  Yeah, it was me!  Poking fun at myself!  (Derek, buddy, don't sweat it; I don't think your pal, the editor, is gonna sh*t-can you for being a sh*tty researcher—you're safe.  And, for the dementia part:  Would you really want to attend faculty meetings with guys like Simon Chapman?)
Of course I tell the truth. In fact, honesty and integrity were the key principles I learned from my first on-the-job . . . apprenticeship in journalism straight out of high school in Sydney more than half a century ago.

"Unlike the university and college 'media degree' courses of today, I was trained as a working cadet journalist by older journalists, editors and chiefs of staff and, like many of them, my first crucial moment of truth, or test of integrity, came on a newspaper assignment, not in a classroom lecture. . . .

"It means I don't just approach any issue like a stenographer, I research it, I investigate it, even if it's just to give readers a little bit of background that'll help them get a better understanding of who's who and what's what and why something's going on."

—Derek Maitland, "Protecting Decency, Beating the Bullies" (8/23/12)
In other words, you're proud of being a self-taught rustic ignoramus (evidently innocent of a college degree) with a flair for bombast and belligerence and, withal, not too too worried about "fact, honesty and integrity"—despite your loud protests to the contrary.  (Derek, it's not too late to go to college, you know.  Might expand the mind a bit, mate!)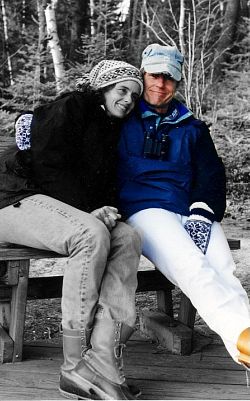 Nina Pierpont & Calvin Luther Martin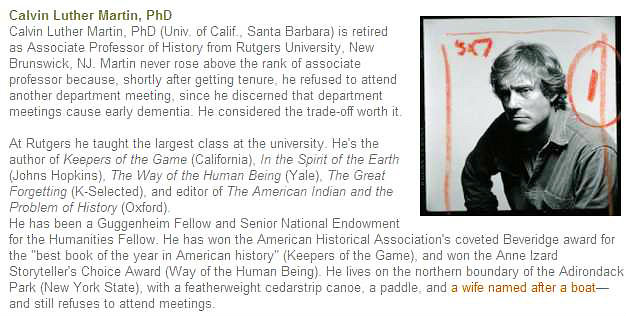 Back to WTS = bullshit.  I'm okay with that.  Surprised?  I'm okay on one condition:  You go live in one of those abandoned houses for 3 months—at my expense.  (Well, I won't pay your entire freight, but a serious chunk of it.  You buy your own booze.)
After that, you write another article, letting people know whether WTS is bullshit (bulls**t) or not.
Now, I'm taking a gamble here, 'cause you may be one of the lucky ones not affected by turbine infrasound.  Not everyone is flattened by it, you know, just as not everyone gets cancer or TB (pass this tidbit along to Chapman).  Nevertheless I'm gonna bank on your getting sick.  Puking and horrible headaches and, well, no sleep worth a damn—the whole 9 yards.
Sound like a deal?
Can I be honest?  If you don't take me up on this, buddy, all the people who follow this website are gonna think you're an a**hole like those developers—for not putting your backside where your mouth is.
Oh, almost forgot!  The article you allude to, "How to fight Big Wind":  It's one of the finest essays I've ever written (not a "thesis," as you call it—see "going to college," above).  No sh*t!  I admit the language is a little robust and colorful, but that's beside the point; it's actually done more good than anything scholarly I ever wrote.  Here I bust my a** to publish books with Yale Univ. Press, Johns Hopkins Univ. Press, Oxford Univ. Press, Univ. of California Press, and I win the "best book of the year" award (Albert J. Beveridge Award) from the American Historical Association, plus a Guggenheim and Senior National Endowment for the Humanities Fellowship and American Council of Learned Societies Fellowship and blah blah blah—and, Jeez, I publish this vulgar little piece online and—wow!—it saves countless NIMBY's from getting f**ked by the wind developer a**holes!