"Wind farms make me sick!" (Australia)
Nov 14, 2012




Print Article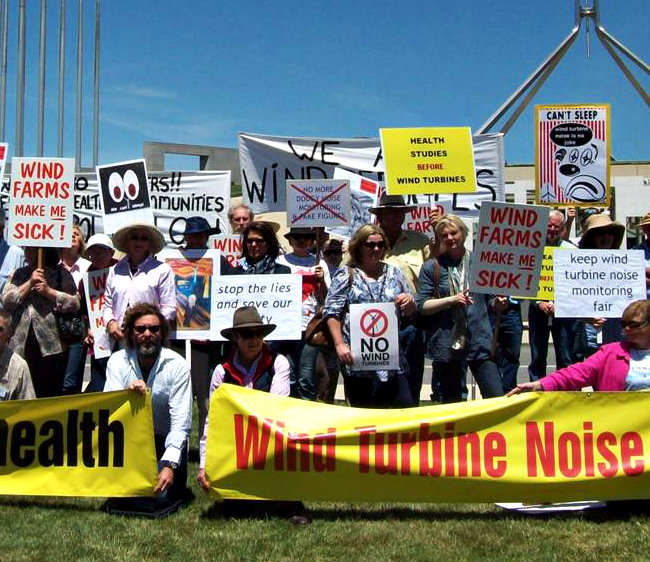 "Fight over wind farms goes to Canberra"
.
—Nick Perry, News.com.au (11/13/12)
A splitting headache, vibrations and pressure behind the eyes kept Janet Hetherington awake in the wee hours of last Sunday as she tried to rest before her son's wedding that afternoon.
She says she wasn't suffering any common illness but the side effects of low-frequency noise generated by wind turbines near her Macarthur home in western Victoria.
"I don't know what to do," she wrote in an email at 4.30am (AEDT) on Sunday.
"I can't live like this."
Ms Hetherington was on Tuesday reduced to tears recalling the moment at a rally outside Parliament House in Canberra.
About 40 protesters, mostly from rural South Australia, NSW and Victoria, carried signs claiming wind farms made them ill or they were "wind refugees" forced to abandon their homes.
They want the federal government to support a Senate bill designed to curb excessive noise from wind farms.
The bill, introduced by independent senator Nick Xenophon and Democratic Labor Party senator John Madigan, seeks to refuse a Renewable Energy Certificate to wind farms that exceed normal background noise by more than 10 decibels.
One of the bill's architects, SA barrister Peter Quinn, said he'd received hundreds of emails like Ms Hetherington's from rural residents concerned about the impact of wind farm noise on their health and their families.
"These things are gutting agricultural communities," Mr Quinn told the rally, adding claims that wind farms boosted regional economies were a "fraud."
"Nobody wants to live near these things," he said.
He urged the protesters to "bombard and shame" their federal MPs into backing the bill.
Under the proposed legislation, the Clean Energy Regulator would be equipped with powers to ensure accredited wind farms don't create excessive noise within 30 metres of people's homes, workplaces or meeting spots.
It would also force companies to make information about noise, wind speed and direction and other data publicly available.
Claims that wind farms are causing sleep deprivation, stress and serious long-term health problems have been the subject of much debate and concern in some communities.
In 2010, the government's National Health and Medical Research Council stated there was currently "insufficient published scientific evidence" to link wind turbines with adverse health effects.