Would you sign this? (Ontario)
Jan 5, 2012




Print Article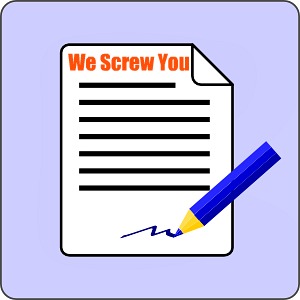 .
–Calvin Luther Martin, PhD
Would you sign this contract?  These two sections are quoted verbatim from a wind developer contract currently making the rounds in Ontario, Canada.
I guess, if (a) you don't actually occupy your 200 acres and (b) you really don't give a damn about your neighbors—I imagine such scum bags sign with glee.
.
Grant of Effects
Lessor grants to lessee a non-exclusive license for audio, visual, view, light, flicker, noise, shadow, vibration, air turbulence, wake, electromagnetic, electrical and radio frequency interference, and any other effects attributable to the wind power facilities or activity located on the leased lands or on adjacent properties ("effects of license").
The burden of the effects of license shall run with and bind the lands and every part thereof and benefit the lessee's interest in the leased lands and such other lands that the lessee may have a real property interest in the leased lands from time to time and which form part of the project.  If requested by the lessee, the lessor shall execute and deliver to the lessee such separate and registerable transfer of easements which reproduce the terms of the effects license.
.


Waiver of Setback

To the extent that (a) lessor now or in the future owns or leases any land adjacent to the leased lands; or (b) lessee leases or holds an easement/license or a lease over land adjacent to leased lands and has installed or constructed or desires to install or construct any power facilities on said land at and/or near the common boundary between the leased lands and said land, lessor hereby waives any and all setbacks and setback requirements, whether imposed by law or by any person or entity, including without limitation, any setback requirements described in the zoning by-laws of the county and/or province or in any governmental entitlement or permit heretofore or hereafter issued to the lessee.

If so requested by lessee, lessor shall promptly, without demanding consideration, therefore execute and, if appropriate, cause to be acknowledged, any setback waiver, setback elimination or other document or instrument required by any governmental authority or that lessee deems necessary or convenient to the obtaining of any entitlement or permit.