"The wind industry is a pack of liars," declares former wind energy lawyer (Australia)
Jan 16, 2013




Print Article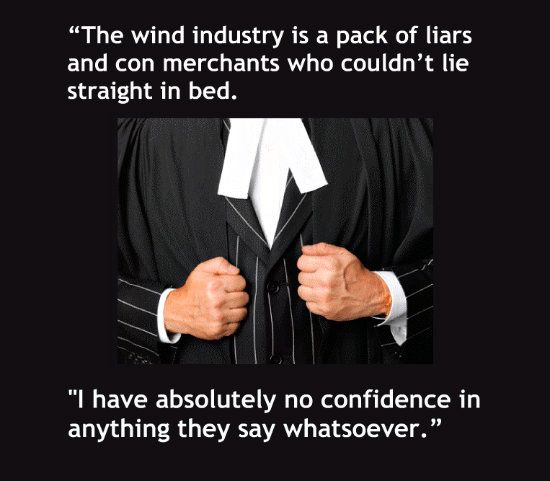 Editor's note:  This is the story of a man of conscience.  The story of a scrappy Australian lawyer who did a complete, 180-degree about face on wind turbines.  I have excerpted the story from an exciting new Australian site, Stop These Things.
Most websites devoted to the wind farm scam are limp-wristed, panty-waisted weenies.  (The fancy word is "pusillanimous.")  They are polite and courteous to these wind energy thugs and their criminal industry.  Stop These Things shines a bright light on the skulduggery of these bums and calls them for what they are:  carpetbaggers, hucksters, and carnies, harvesting tax dollars while laying waste people's lives and the countryside as they ride pell mell the Green Energy gravy train.  (Read "The ruinous privileges of renewable energy" for a crash course on "greenwashing" and "greenmail" [a "green" version of "blackmail"] in Australia.)
Lawyer Peter Barber is a seasoned campaigner when its comes to town planning.

Over the last 30 years he has appeared before the Victorian Civil and Administrative Tribunal, the state's civil justice mediator, hundreds of times.

Frequently he has represented the big end of town: large infrastructure companies, miners, local government.

Like many in the legal profession, Barber has reveled in the battles.

"I did a lot of mining and extractive work … I've made hundreds of appearances before VCAT. I've challenged QCs … run up against them all." . . .
His big mistake . . .
I went past some time later when they were under construction and I was absolutely horrified to see the towers going up. They didn't have their nacelles (hubs) or blades on at that stage but I thought 'what have I done to these people.'"

Barber leans across the table. "The principal objector … I still remember his name … was passionate. He started to get to me a bit during the hearing because he was genuinely concerned. I heard later he has not been a well man … he sold his place near the wind turbines. He is very saddened and has never been the same again.

"And that adds to my grief, if you like, my sorrow at my involvement. And I repeat, 'what did I do to these people?' I wasn't the only one but I was a contributing factor."

When did Barber first start to have doubts?

"Before the hearing had even finished," he says. "I didn't articulate any of these views at the time because I'm a lawyer. My duty was to my client at the time and to properly and honestly inform VCAT … but there was a moment in the hearing, when I had an internal voice.

"During the hearing I got off my backside and drove right around to the other side of the bay. I looked back along Wilsons Promontory and I thought 'oh no'. My instructions were to pursue this through, which we did. I followed through on that but I had personal misgivings which were reinforced later on."

Barber names one of the objectors to the Toora wind farm.

"He was passionate and articulate. He and others took us to local waterfalls and I thought this is not farmland. It's not national park but there were lovely rolling hills. Now the views up through the hinterlands…"

He stops talking, looks out through the windows. The room fills with silence.

"It's a damned shame," he says at last.

Has he returned to the area since the wind farm began operation?

"I didn't want to show my head down there," he says. "I was feeling a bit ashamed of myself. What I did notice when I went down there was the community division over the project. It was bitter.

"They had just lost the Bonlac butter factory. Those jobs never got replaced. They thought they would get jobs out of wind farm tourism and this would help the loss … these working families. They thought farmers were going to get money and it would be a fantastic idea."

Barber talks about the wind farm developer conducting secret talks with farmers to sign them up before going public on the project.

"The wind farm promoter got to the farmers first before they announced the project publicly. That's their tactic."

Then, in the strange way of things, something similar happened near Barber's own backdoor. A Sydney-based company, Epuron Pty Ltd, proposed up to a seven-turbine wind farm five km from Eden on land owned by SEFE.

Barber says he had already become a member of the local chamber of commerce.

"I said at a meeting fairly early on 'this is a windy piece of coast, please be aware of wind farms. They divide the community and they are not good. And they said 'this area has been investigated. It is not suitable for wind farms. Next item'."

That was five years ago.

Now if the chamber of commerce doesn't fight to block the proposed wind farm, Barber says he will resign from the body and continue to fight the proposal with other concerned residents.

One last question: how would he describe the wind industry?

Barber's response is immediate: "The wind industry is a pack of liars and con merchants who couldn't lie straight in bed. I have absolutely no confidence in anything they say whatsoever."