Woman suffers from Wind Turbine Syndrome from her workplace, not her home (Mass.)
Jan 10, 2012




Print Article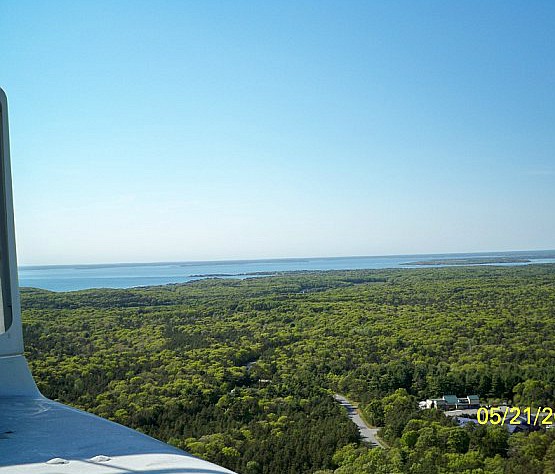 "Scene from the top, looking NW over Buzzards Bay"
(from the NOTUS Clean Energy website)
.
From:  Donna Benevides, Harwich, MA
To:  David Carignan, Health Agent, Town of Falmouth Health Dept (click here for an editorial on this gang)
Date:  December 27, 2011
Regarding:  The NOTUS wind turbine at Technology Park, Falmouth, MA
.
Dear Mr. Carignan:
I work full time at 81 Technology Park Drive in Falmouth in a building that is approximately 650 feet from the NOTUS wind turbine [scroll down to see a satellite view—Editor].  Since this turbine went into full operation, I've been suffering from vertigo, dizziness, tinnitus, and a feeling of pressure in my ears.
The pressure can best be described as the feeling you get when driving up a mountain; except that yawning or chewing gum doesn't ease the pressure as it does when driving up a mountain.
The vertigo is constant, even when I'm at home in Harwich (MA).  If I look up, down, or turn my head quickly, the room seems like it's spinning rapidly and I have to hold onto something so I don't fall down.  When I lay down in my bed at night, the room spins, and the same thing happens if I turn over in bed.  This sometimes causes nausea.
I also have trouble concentrating at work, but not at home.
I am in perfect health, with no history of motion sickness, ear problems, or vertigo.  I do not take any prescription medications and have normal blood pressure, etc.
I was excited when the turbine was being constructed, because clean energy and reducing our dependence on foreign oil is important.  My opinion on wind power has not changed.  However, I have learned these turbines need to be placed far away from where people live and work.
I was home in Harwich for four days during the Christmas holiday, and my vertigo lessened so much that I could move my head with only minor dizziness, rather than needing to grab onto something to keep from falling.  The blocked feeling in my ears cleared up, as well.
Today, I returned to work and my ears feel blocked and the vertigo is worsening.
Since I do not own property in Falmouth, this is not a case of "not in my backyard" [NIMBYism].  My symptoms are not caused by lack of sleep, because I sleep in Harwich, and generally get a good night's sleep, except for when I roll over and the vertigo wakes me up, but I am able to go back to sleep after it passes.
I do not know any of the people who live near these turbines, but my heart goes out to them.
Feel free to contact me with any questions.
.
Click here for a copy of Donna's letter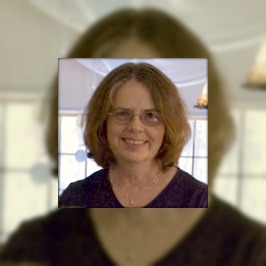 Donna Benevides
.
Editor's note:  Here is a satellite map of the location of the NOTUS (Webb) turbine, Donna Benevides's workplace, and the home and business of Sue Hobart (Hobart's Fine Florals).  Click here and here for the Hobarts' experience with Dan Webb's "NOTUS" turbine.  Click here for an interview of Sue & Ed Hobart by Dr. Pierpont.
Compare the Hobarts' description of their Wind Turbine Syndrome with Donna Benevides's.
While you're listening to Dr. Pierpont's interviews with Falmouth WTS victims, be sure to listen to Pierpont's interview with noise engineers Robert Rand and Stephen Ambrose, who describe their WTS experience while doing NOTUS wind turbine noise & vibration & pressure measurements at the Hobart home.  Read the peer-reviewed Rand & Ambrose report here.
Notice that many ignorant people, including clinicians who should know better, maintain that wind turbines affect only sleep—and that it is the sleep deprivation issue which causes all the other host of symptoms.  Dr. Pierpont has repeatedly demonstrated that this is erroneous.  Donna Benevides's letter confirms this, as does the Rand & Ambrose report.
In a week or two, the State of Mass. will deliver itself of a health report on wind turbines.  The report will be total and utter horseshit.  Guaranteed.
.