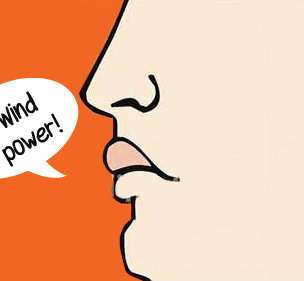 ·
—Jim Wiegand, Naturalist (California)
Just remember, wind power works great if you are being paid to sell it.
Wind power works great if politicians can help the wind industry food-chain steal tax credits from taxpayers and then turn around and reward them again with carbon credits.
Wind power works great if ridding the world of species like whooping cranes and eagles is not a concern.
Wind power works great in PowerPoint presentations, animated clips, and sappy commercials.
Wind power works great if you would rather see an industrial landscape over god-given beauty and productive ecosystems.
Wind power is fantastic if your goal is to waste time and resources on a non-solution to society's energy needs.
But wind power works best of all when Democracy takes a back seat to an assembly-line of corruption allowing outsiders to plunder and pillage communities.
I would take any other energy source over wind.
It is essential that people realize that no energy source comes anywhere close to killing as many raptors as wind energy does. No other energy companies are allowed to pick up bodies of rare and protected species from around their production sites on a day-to-day basis, year-in and year-out. No other energy producer has a several-thousand-mile mortality footprint (the highly endangered whooping cranes' migratory corridor), like what wind energy has.
Wind is not clean energy. It is nothing but a filthy, disgusting excuse to bleed taxpayers.
.